Only those who suffer with arthritis know how intense the pain can be, more so when it affects an older adult. While it is true that arthritis cannot be cured, it can be kept under control. Yes, it is manageable, a combination of treatments and lifestyle changes, particularly by following a diet that reduces inflammation. The trick is to maintain a food dairy and finding out what works best for you. Here are 5 Tips for arthritis pain relief:
Check with your doctor
It's a good idea to write down where the pain is, time of the day when it worst, any medication you are taking, which food triggers pain and what activities you are having difficulty with. These observations will help your doctor better understand your problem and recommend treatment.
5 Tips for arthritis pain relief:
1. Move around
Yes, it hurts to move around but not moving actually makes arthritis pain worse! If you stay in the same position for too long, it can make your joints even more painful and stiff. It is advisable to move around and use the joints that hurt, regular activity will reduce arthritis pain.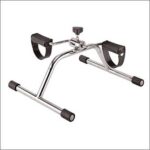 Apart from regular daily exercises (these light exercises include raising your arms over your head, flexing your shoulders or other strengthening exercises), just walking around the house is a good joint workout.
Try the Pedal Exerciser – The Pedal exerciser is a compact device that can be used to exercise legs or arms at home.  It is a simple device that is usable by elders and those suffering from arthritis.  The resistance can be set according to the needs of the user. BUY ONLINE
2. Use heat therapy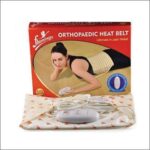 Stiff joints and muscles can be relaxed and relieved with heat therapy. It also stimulates blood flow and reduces muscle spasms
Orthopedic electric heating belt / pad aids to provide relief to sore muscles from an intensive workout, decreases joint stiffness and pain for arthritis patients. Three different heat settings, controlled by a convenient slide switch to produce heat therapy at just the right temperature for your ailment. BUY NOW
3. Hot and cold therapy
You can get arthritis pain relief using both heat and cold. Heat relaxes the muscles and cold helps with the inflammation. Sometimes, arthritis pain causes a burning sensation, applying an ice pack will provide relief.
Cold and hot pack – This wonderful 2-in-one hot and cold pack from Old is Gold Store can help relieve pain and ease you aching body.  It is a gel filled PVC pack that can be used as a cold compress as well as a hot pack.
It reduces swelling and relieves pain. Relaxes tight joints and eases arthritic pain.
For Cold Therapy: Place the pack in freezer for at least one or two hours. Remove from freezer and apply to the injured area. The pack stays flexible at subfreezing temperature to conform to the injured area. Store in freezer when not in use.
For Heat Therapy: Place the pack in a microwavable container, covered with water. Heating time may vary depending on wattage. Heat the pack at full power for two minutes (time based on 500 watt microwave). Remove and test before using. Do not heat the pack for more than two minutes. BUY NOW
4. Maintain a healthy weight
Maintain optimum weight, as more body weight increases the pressure on the joints. Besides, it will help you move around. Maintaining a healthy weight is the most effective ways to reduce the symptoms of arthritis. Healthy weight reduces pain, improves joint function, reduces inflammation and makes you feel better overall.
5. Diet to reduce inflammation
While there is no diet cure for arthritis, certain foods can ease inflammation and help relieve some of the pain associated with arthritis. This is probably the most important among the tips for arthritis pain relief described in this page.
Eating fish varieties such as salmon, mackerel, sardines and tuna which are high in omega-3 fatty acids, reduces inflammation thereby eases pain.  If you are a vegetarian or don't eat fish, you can opt for omega 3 supplements or soybeans (meal maker, tofu).
Turmeric, Garlic and ginger have anti-inflammatory properties that may help decrease symptoms of arthritis. Other common food that possess anti-inflammatory properties include palak, berries (especially cranberry), grapes, walnuts, broccoli and turmeric.
Medical Disclaimer
All content found on this article, which includes products, text and images are for informational purposes only. Also, this information is not a substitute for professional medical advice, diagnosis, or treatment. Furthermore, always seek the guidance of your physician or other qualified health provider with any questions you may have regarding a medical condition. Finally, do not disregard or delay in seeking professional medical advice because of something you have read on this post.