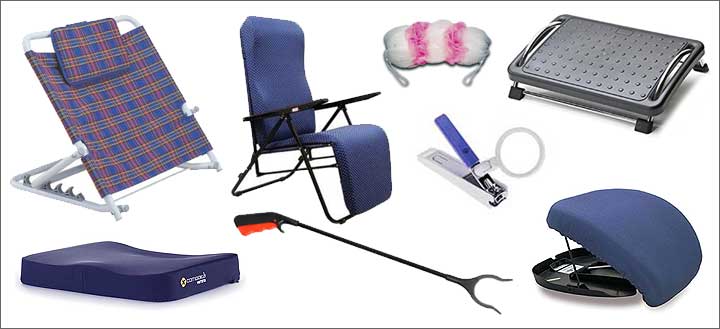 Various innovative convenience products for seniors are available that makes their lives a lot easier.  These convenience products are not only helpful to the elderly but also folks who take care of them. Convenience products increases independence and seniors feel more confident and happier. Also, they make great gifts, whether it's for someone you care for or your aging parents. Finally, it helps you as a caregiver and your loved one be safe and comfortable.
SHOP ONLINE FOR USEFUL SENIOR GADGETS
Adjustable Back Rest
Adjustable Back Rest adjusts to 5 positions from a low lying angle to an upright sitting position. Most importantly, it is usable anywhere – on the bed or on the floor. The cushion is breathable and porous thereby allowing air to flow through. The backrest is powder coat finish, folds flat for convenient storage and is easy to clean.
Cold and Hot Pack
Dual purpose – flexible ice or soothing heat to reduce swelling and odema at the site of injury. Easy application, cold for pain and swelling, heat for muscle aches and stiffness. Ideal for reducing pain and swelling. Also, useful for orthopaedic cases, post operation, bruises, sprains and for soothing muscle aches and stiffness.
Easy to use mosquito net
This elegant, portable and foldable mosquito net / bed net is free-standing and requires no external support. This mosquito net is a unique and innovative and is fully enclosed. This provides an ultimate level of protection against mosquitoes. Finally, you can use it on any bed or on the ground.
Nail clipper with magnifying glass
These nail cutters with attached magnifying glass to help you see better and reduces eyestrain. The handle is of ergonomically design. Easy and comfortable to use. Also, this nail cutter is fairly large and you can use it for finger nails as well as toe nails.
Inflatable Shampoo Basin
Form-fitting basin cushions patients' neck & shoulders and is perfect for washing the hair of patients at their bed. The basin is made of heavy-duty vinyl. Furthermore, it comes with a easy to operate pump for inflating it and a convenient hose for draining the water.
Back Scrubbing loofah
This back body loofah made with soft sponge helps to scrub ones back. Soft and gentle on the skin it refreshes and revitalizes the skin. Allows you to reach and clean all parts of your back and has a massage effect.
Cushion for comfort – for chairs, wheelchairs and for tailbone comfort
This cushion provides comfort for those sitting for long periods on their office chairs. Also, useful for wheelchairs, car seats or even during their flight. These cushions are contoured specifically for maximum comfort. Special contour ensures Coccyx or tailbone relief.
Seat Lift Assist
Seat Lift Assist is useful for people who find it difficult to get up from their chairs.  The device operates on hydraulics that gently pushes you up when you are in the process of getting up. Thereby, this device helps reduce the strain on your knees and thigh muscles.  The device can be placed on chairs and sofas and is also easy to transport, so you can take it along with you wherever you go.
Multireacher
This is a tool acts as an arm extension.  If you have difficulty bending down or are bed ridden, then this is the tool for you. This multi-reacher allows you to reach stuff that are just out of reach.