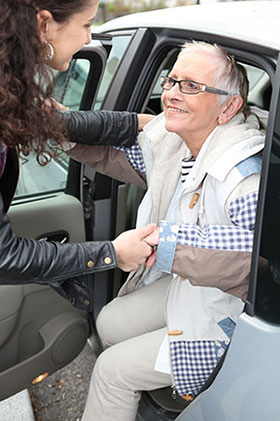 Seniors love to visit family and friends. This activity not helps seniors stay independent and cheerful but also protects them from becoming isolated or depressed.
As they age, they are unable drive themselves or go without assistance. Options are either hiring a driver or drive them yourself. Either case, it can be demanding or a stressful exercise due to various reasons. We recommend 6 useful products that to help you and your loved ones to make such outings, pleasant and stress-free.
This will be of more help than you can imagine, especially if you are travelling some distance or the city that you live in experiences traffic jams. This is even more useful if the senior suffers from incontinence. This simple aid will take the stress out of travel, even if it's a small distance.
Walkers provide the most stability for those who need a little extra help. Ideal for extremely weak people with balance issues. There are foldable, light-weight aluminium walker which are easy to carry and a very safe option even for the most infirm.
Ideal for elderly who find it difficult to get in and out of the car seat. This unique cushion swivels 360 degrees to make it easy to get in and out of any car. The foam cushion sits on a turntable base so you can swivel sideways to get in or out of the seat without straining your back or hips. This seat is lightweight and portable.
If you are constantly worried about your loved ones falling due slippery floors, then these socks are a must. The patterned bottom provides fantastic grip and ensure that they can walk confidently anywhere they want.
Wet wipes not only make a great toilet paper substitute but also are the ultimate multi-tasker; you can use them for wiping down toilet seats, handles, cleaning hands or any sweaty areas. They are also great for spillages and stains. This is a very useful product to carry with an older adult.
Ideal for chairs, wheelchairs and for tailbone comfort - This cushion provides comfort for those sitting for long periods on their office chairs, wheelchairs, car seats or even during their flight.