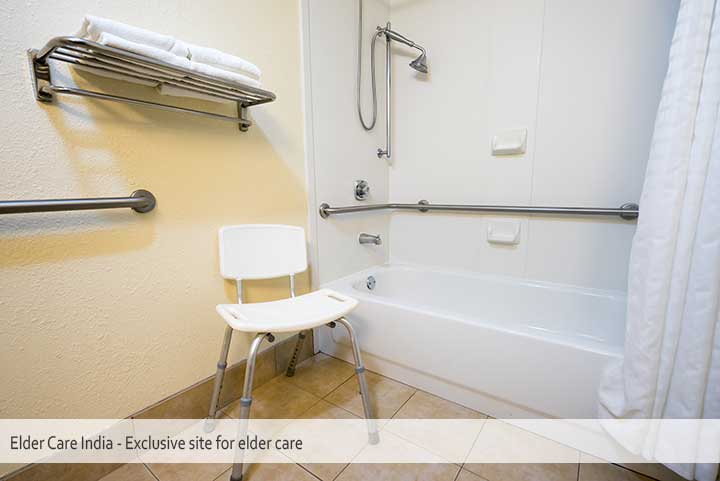 One of the main causes injuries to an older adult, particularly those with balance issues is fall-related. Falls in the home, especially the bathroom can be serious and sometimes be fatal. One of the most hazardous places in a home are bathrooms. Often, one can avoid these falls if you install some basic bathroom safety devices.
Common hazards in a bathroom include:
Slippery floors
Lack of grab bars for support
Low toilet seats
Plastic chairs not designed for showers
How to make the bathroom a safer place for seniors and reduce the risk of injury?
BATHROOM SAFETY DEVICES
1. INSTALL ANTI-SLIP MATS
The bathroom is one of the most accident-prone areas in the house, especially in India where most bathrooms and toilets are perennially wet. Furthermore, this anti-slip mat is similar to the mats you find around swimming pools to help wet areas stay slip-free. Standard width is 4 ft. Can be cut to any length you desire.
Click here to see a great selection of anti-slip mats.
2. INSTALL GRAB BARS
Maintaining independence and dignity is important as we all get older, especially when it comes to using the bathroom. Hence, toilet safety aids like grab bars greatly reduce the risk of accidents. Grab bars are not only inexpensive but also easy to install. Grab bars gives elders something sturdy to hold onto while they sit or stand.
Click here to see a great selection of grab bars.
3. INSTALL TOILET SEAT RAISERS AND TOILET SAFETY RAILS
Toilet seat raiser makes sitting down and getting up from the toilet bowl easier and less painful, especially for people with knee issues or those recovering from hip and knee surgery. This fits most regular western style commodes. Its clamps hold it securely in position and provides stability. Usually available in different heights.
Toilet Safety Rail easily fits to your existing toilet. It usually features two handles that make getting up and sitting on the toilet an easier & safer task. Toilet Safety Rail withstands wet conditions normally prevalent in Indian bathrooms.
Click here to see a great selection of toilet seat raisers and toilet safety rails.
4. USE PROPER SHOWER CHAIRS
Shower chairs not only give seniors the stability they need while showering, but also provide a place to rest as they tire easily when they exert themselves. This makes shower chairs one of the most important among bathroom safety devices. Shower benches and chairs designed for individuals who require seating support when bathing or showering and can vary a lot in terms of size and features.
Also, types of shower benches and chairs include heavy duty, adjustable shower chairs, bench type height adjustable and shower chair with arms and backrest. Finally, choose the right type of model based on the type of disability and should provide maximum stability and comfort.