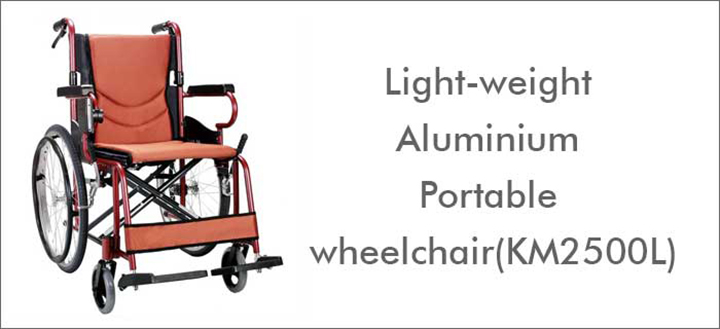 Firstly, this light-weight aluminium portable wheelchair is highly durable and easy to transport. Secondly, it can move in narrow spaces.
Aircraft grade aluminum alloy frame
This light-weight aluminium portable wheelchair from Karma is specifically for India. It is extremely light-weight and highly durable. The Karma Premium Wheelchair KM-2500L is an ultra-lightweight aircraft-grade aluminum alloy frame with a standard seat width of: 16″" and 18″", it has a foldable frame with dual brake system and 20″" flat-free rear wheels. Attendant cable brake Detachable and washable cushion.
Light-weight aluminium portable wheelchair – Features
Best in class Material – Aircraft grade aluminum alloy frame
Hi Tech Design – Besides it is ultra-lightweight extremely durable design- 9.2kg can take upto 100Kg weight!
Designed for India – The first compact wheelchair suitable for Indian household and can move in very narrow space
High on Life – Lasts upto 6 times longer than any comparable wheelchair – upto 200,000 Rotations !!
Goes with You – Easy to carry and move around anywhere
Where to source them?
We recommend 'The Old is Gold Store', a speciality store offering an assortment of products & services exclusive to senior citizens. Besides, you will find several products that make your older adult's life easier.