Transval Back Buddy Junior (HC-3)
Do you suffer from lower back pain? It's likely that you are if you have been sitting without proper lumbar support for a long time. You put strain on your entire body and particularly your lower back when you slouch with your head and shoulders hunched forward. We tested several lumbar support pillows for office chairs and found the Transval Back Buddy Junior (HC-3) to be inexpensive, comfortable, and supportive. It is easily the Best Lumbar Support Cushion in India.
Right Level of Comfort
In addition to being sturdy, the Transval Back Buddy Junior (HC-3) is cushioned with polyurethane foam. Its adjustable, extendable straps allow you to position the pillow for the right level of comfort on most chairs. The pillow will provide years of back support.
Alleviates Lower Back Pain and Posture Improved
Back Buddy Junior (HC-3) by Transval relieves lower back pain and tightness caused by long periods of sitting or driving; supports your back's curve to achieve perfect spinal alignment and promotes a healthy posture. We recommend orthopaedic chair back supports to those suffering from Lumbosacral lower back pain and Spondylosis.
An effective and sturdy support system
This ergonomic lumbar pillow is moulded with premium quality polyurethane foam and never flattens out, providing comfort and relieving back numbness.
Secure Adjustable Strap
The back support cushion in the car has a strap that keeps it in place and prevents it from sliding down, so it is perfect for office chairs, home office chairs, gaming chairs, computer chairs, armchairs, sofas, couches, car seats, SUVs, trucks, wheelchairs, and reclining chairs.
We Recommend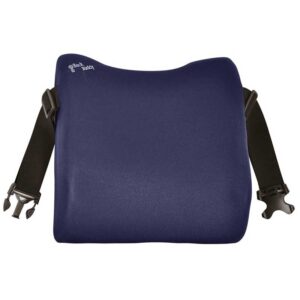 Vibration and energy absorbing polyurethane foam with spring steel horizontal wire frame.
The design fits snugly to the natural contours of your lower back.
Also, the high-density cut memory foam is durable and provides long-lasting comfort.
*At the time of publishing, the price was ₹1,350.00