Novella Chair: Comfort and Elegance
Nilkamal Limited is India's leading Furniture & Mattress company when it comes to furniture that combines comfort, design, and durability. With a history of producing high-quality furniture, Nilkamal has caught the essence of utilitarian elegance once again with the Novella chair. This armless chair, made of virgin polymer with stainless steel legs, exemplifies the brand's dedication to innovation and design excellence.
Unveiling the Novella Chair
Nilkamal's Novella chair combines beauty and utility in an elegant way. Whether you're arranging your living room, dining room, or office space, this chair is a versatile addition that works well in a variety of contexts. The chair's design is carefully considered in order to provide both comfort and visual appeal.
Material Excellence
The Novella chair's fabrication from virgin polymer is at the heart of its endurance and sturdiness. This material choice not only provides a longer lifespan but also makes the chair easy to maintain, making it suitable for both domestic and commercial use. Nilkamal's virgin polymer is known for its toughness and resistance to wear and tear, making the Novella chair a dependable friend for years to come.
Elegant Design
This chair is distinguished by its clean lines and modern appearance. The design not only promotes mobility but also adds to the chair's visual appeal by producing a streamlined profile. The stainless steel legs not only give a sturdy foundation but also provide a touch of modern sophistication to the overall appearance of the chair. The Novella chair's blend of form and function guarantees that it effortlessly enriches the ambience of whatever area it graces.
Versatility in Application
The Novella chair's adaptability is one of its most notable qualities. This chair adjusts fluidly to its surroundings, whether it's a formal dining setup, a cosy reading corner, a professional office space, or a dynamic cafe. Its ergonomic form allows for long periods of comfortable seating, making it a great choice for parties, meetings, or leisurely moments of relaxation.
Nilkamal's Legacy of Quality
Nilkamal, the world's largest maker of moulded furniture, has built a reputation for delivering high-quality goods that meet a variety of lifestyle requirements. The Novella chair exemplifies their dedication to great craftsmanship and inventive design. Each chair is the result of careful attention to detail, guaranteeing that consumers receive nothing less than the best.
A Symbol Of Comfort, Style, and Durability
The Novella chair by Nilkamal emerges as a symbol of comfort, style, and longevity in a world where furniture is more than just a basic requirement. Moreover, this chair, made of virgin polymer and supported by stainless steel legs, is a versatile addition to any space. The Novella chair exemplifies Nilkamal's commitment to making furniture that transcends trends and stands the test of time.
So, whether you're looking to update your living area or your workstation, consider embracing the elegance and comfort provided by the Novella chair – a true Nilkamal masterpiece.
I recommend
Chair Novella (Black)
This jet-black chair is designed in a way that it provides you with utmost ease & comfort with its circular base.
Chair Novella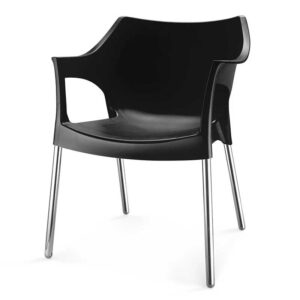 Buying Options
₹1,900 from Old is Gold Store
*At the time of publishing, the price was ₹1,900/-