Why I opted for a Lumbar Support Back Cushion?
I find myself spending most of my day sitting in front of my computer, and over time, I've developed chronic back pain. A few months ago, I started using a lumbar support back cushion to relieve the pain and the one I use has been amazing! In this article, I'll share with you the benefits that you'll get from using lumbar support back cushions and how to choose the perfect one for you.
Lumbar Support Back Cushion: Choosing The Right Size
When you're looking for a seat cushion, it's important to choose one that's the right size. If it's too small, it won't provide enough support. If it's too big, it will be uncomfortable and may not fit in your chair. The best way to find the right size is to measure the width of your seat and compare it to the dimensions of the cushion.
Choosing Between Foam And Gel
If you want a firm seat cushion, go with foam. You want a softer seat cushion, go with gel. If you want a seat cushion that won't slide around on your chair, go with foam. I choose Transval's Back Buddy Standard (HC1) is made from vibration-absorbing polyurethane foam with a spring steel horizontal and vertical frame, making it ideal for use at work, at home, and while driving.
Choosing Between Memory Foam And Polyurethane Foam
When it comes to choosing a seat cushion, you have two main options: memory foam or polyurethane foam. Both materials have their pros and cons, so it's important to decide what matters most to you before making a purchase. Since I spend long hours sitting in front of the computer, I choose vibration and energy absorbing polyurethane foam.
When to Replace Your Seat Cushion
We spend a lot of time sitting, whether it's at a desk, in a car, or on the couch. And if we're not comfortable, it can take a toll on our bodies. That's why it's important to have a seat cushion that provides lumbar support. But how do you know when it's time to replace your seat cushion? It's ideal for back pains due to:
Disc Prolapse
Vertebral Fracture
Degenerative lumbar Disease
Osteoporosis
Paget's disease
Occupational Backache
Soft Tissue Affliction
Injury
I recommend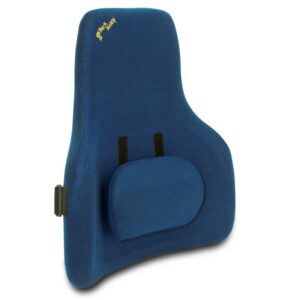 The best lumbar support pillow for most people
It features a lumbar pillow, which fits snugly into the curve of your back and provides extra cushioning at the required area.
Buying Options
₹2,900.00 from The Old is Gold Store
*At the time of publishing, the price was ₹2,900.00.