Shower Chair Luna – M406 – a better showering experience
One of the most vulnerable places for seniors is the bathroom, especially when having a bath. Shower Chair Luna – M406 from Mobilita can also help improve bathroom safety and reduce the risk of slips or falls. BUY ONLINE
Features
Ergonomic Design
Tool Free Installation
Height adjustable – Push button, pull / push lower leg to set desired height.
Comes with a sturdy frame
Anti-slip rubber feet provide additional stability.
Sturdy Supportive Armrest
Anodized matt finish
Maximum weight bearing capacity of 227 kg
Shower Chair Luna – M406 – Description
A must have bathroom aid for households with seniors or people with mobility and balance issues. Besides, shower Chair Luna – M406 allows for a safer and more comfortable showering experience for the user.
This shower chair also features a comfortable and supportive backrest for safety and security. Besides, its legs are fitted with non-slip rubber ferrules for improved stability to enhance user safety. The chair also has sturdy armrests that offer excellent support when rising and lowering the user from and into the chair. It also has height adjustment legs that allow the user to adjust the chair as per their comfort. Because the chair is made of PP (Polypropylene) and anodized aluminium, it is easy to clean and maintain.
Indication
Shower chair Luna M406 suits people with standing inability other illnesses which are affecting the stability (e.g., strength loss, chronic, advanced heart circulatory illnesses and lung illnesses) infers with a body position weakness, so that an independent use of the shower is still allowed.
Specifications
Adjustable height : 15"~18.9" – 1″ Increments
Seat Size : 17.4″ Width x 15.1″ depth x 3.1″ Height
Back Rest Size : 14.6″ Length x 9″ Height
Overall Product Size : 23.1″ Length  x  16.1″~16.7″ Depth
Overall Product Height : 25.6″ ~ 29.5″ Height
Material : PP (Polypropylene) / Aluminium
Finish : Anodized Matt
Maximum Weight Capacity : 227 kgs
Overall Product Weight : 3.5 kgs
Parts of Shower chair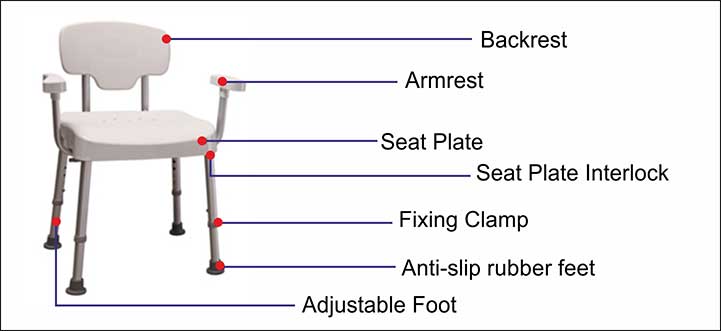 Caution
Read instruction before assembly
Please check before assembling if the parts quantities are correct.
Should be checked before each use to make sure it is securely assembled. Reinstall if necessary.
Max User Weight 227 kgs
Do not sit alone on the corner of the seat to avoid injuries.
We assume no liability for any damage or injury caused by improper assembly or use of this product.
Shower Chair Luna M406 – Assembly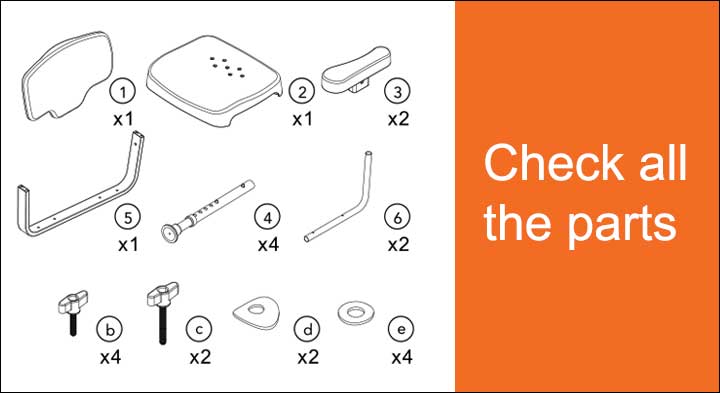 Step-01 : Insert each leg 4 into the seat. ( Caution: For secure installtion, make sure the button on each leg is fully engaged to the hub on the seat.)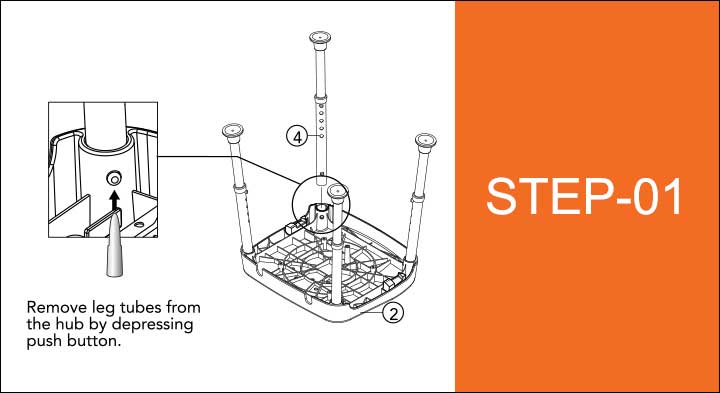 Step-02 : Fix the two points of tubes 6 onto the seat with parts b & d
Step-03 : Fix the middle point of hand rest tube onto back rest tube 5 with parts c & e. Fix the outside point of hand rest tube with parts b & e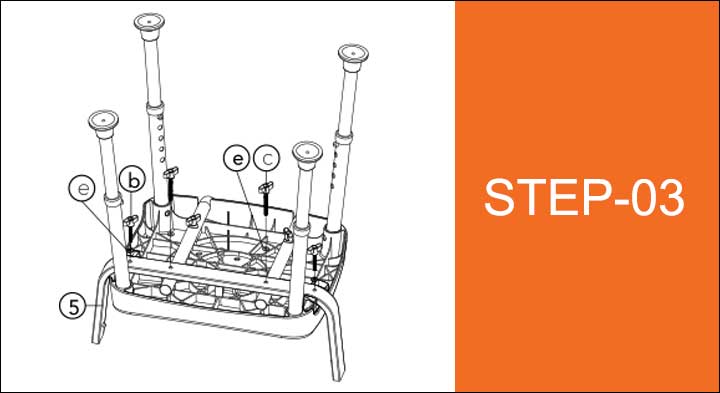 Step-04 : Install the backrest onto back tubes.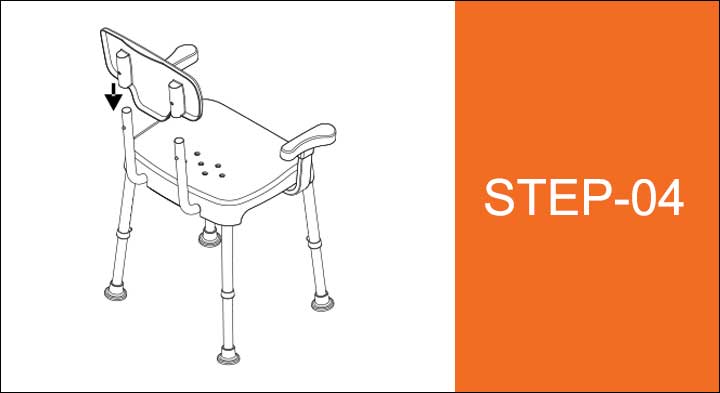 Step-05 : Install the hand rest onto the hand rest tube. ( Caution: For secure installation, make sure the button on each hand rest tube fully engages to the hub on the hand rest.)
Cleaning / Maintenance
Clean regularly by hand with a damp cloth and mild detergents. Also, check screws regularly and if necessary tighten the screws.
Safety instructions
Before use all components are to be checked for damages and firm seat. The steadiness of the shower chair is clearly lower as with a normal chairs, therefore avoid lateral lean out – Tilting danger ! DO NOT USE IT TO CLIMB!
The max. user weight 227 kg on the seat!
Warranty
Your Mobilta branded product carries a limited warranty to be free from defects in material and workmanship. Applicable to the original purchaser only.
This device is built to exacting standards and carefully inspected prior to shipment. This Warranty is an expression of our confidence in the materials and workmanship of our products and our assurance to the consumer of years of dependable service.
This warranty does not cover device failure due to owner misuse or negligence, or normal wear and tear. The warranty does not extend to non-durable components, such as rubber accessories, casters, and grips, which are subject to normal wear and need periodic replacement.