Shower chair – M400 – Foldable Aluminum
The foldable aluminum shower chair M400 with backrest is a premium bath chair from Mobilita Senior Care Products. Firstly, this sturdy aluminium and plastic shower chair comes with anti-skid base. Height adjustable, with backrest. Comes with arm rests. Secondly, the assembly of the chair is completely tool free. Thirdly, contoured base to allow access to sensitive areas requiring high level of hygiene and cleanliness.
Indication
Shower chair M400 suits people with standing insecurity / standing inability with decrease or missing functional ability of the lower extremities or other illnesses which are affecting the stability (e.g., strength loss, chronic, advanced heart circulatory illnesses and lung illnesses) infers with a body position weakness, so that an independent use of the shower is still allowed.
Parts of Shower chair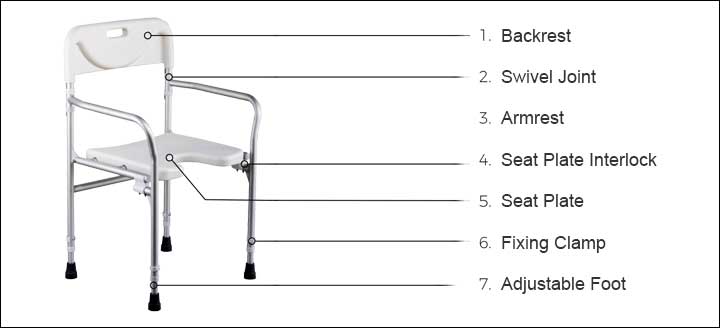 Assembly
The shower chair is completely assembled. Unfold as illustrated and put the seat upwards,
Swing both side parts forwards and then the seat record down them on the hold clips lies .
Press now the seat plate hard down until it engages audible in the hold clips on the left and on the right side .
Also check the correct position of the seat plate in the hold clips.

Height adjustment of footrests
To adjust the footrests in the height first unlock the fixing clamp. Then the footrests can be shifted in 4 steps in the height for seat heights from 45.7-53.3 cm / 18" – 21" inches.
Cleaning / Maintenance
Clean regularly by hand with a damp cloth and mild detergents. Check screws regularly and if necessary tighten the screws.
Safety instructions
Before use all components are to be checked for damages and firm seat. While seating, rising and while folding up or engaging the seat plate it`s possible to pinch clothing or body parts. The steadiness of the shower chair is clearly lower as with a normal chairs, therefore avoid lateral lean out –
Tilting danger !
The max. user weight 113 kg on the seat!